Blueberry & Raspberry picking at Turkey Hill Farm, Haverhill, Massachusetts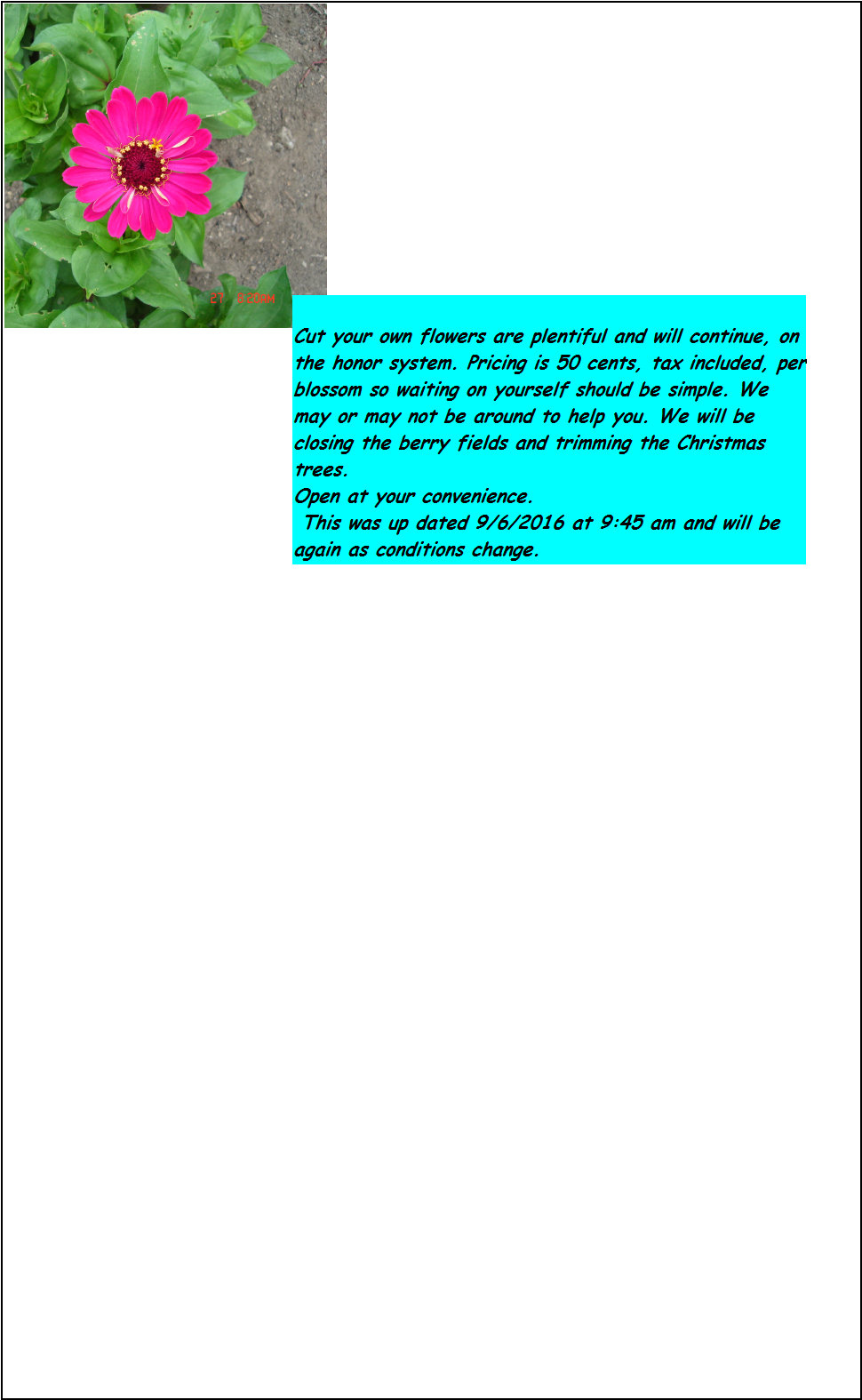 This is a beautiful hilltop farm growing delicious Blueberries & Raspberries for you to pick in July & August! You can also pick flowers from mid July to early September.
We also grow beautiful Christmas trees for you to choose, tag & cut in November & December. Tagging always starts the first Saturday in November (this year November 5).
Everything is grown with spizzerinctum!

Turkey Hill Farm
380 Middle Rd, Haverhill, Ma 01830
978 372 9474 turkeyhillfarm@comcast.net
If you have not picked berries here before, we encourage you to give us a try. Our fields are clean and neat. Picking is surprisingly fast an easy.
Our blueberries are chosen for flavor, ease of picking and large size. We have the best tasting berries!
Children are always welcome but leave your pet at home. We provide free picking containers and have toilet and hand washing facilities near the fields. Free cold drinking water is always available.
Berry picking usually starts about July 1. Blueberries go through late August and Raspberries end in early August. Check the comments at the top for up to date picking conditions.
So called "peak picking" is mysterious and unpredictable. Picking conditions are controlled by many things but mostly by temperature and number of pickers. We will honestly explain picking conditions on this web site so visit it often as we change it very often, sometimes hourly.
To have "peak picking" all the time we are very organized and have a few rules. We expect all ripe blueberries to be picked from one bush before starting another. Raspberry pints can't be heaped up. We intend to stay in business so we don't want the berries eaten before they are paid for.
Cash or checks only. Please leave your pets and plastic safely at home.
If you don't want to follow rules or want to eat while picking please visit our competitors.
Directions
From rte495 take exit 52 to rte110, east (toward Merrimac) one mile to right onto Middle Rd.
We are .7 mile on the right.

From rte95 in Newburyport take rte113 west 3.2 miles and turn right at Daley's Real Estate. Go 1.2 miles (cross the Merrimack River, do not take hard right) and bear right at fork, go 1.2 miles and turn left on to rte110 west (toward Haverhill) and go .8 mile to left onto Middle Rd, farm is .7 miile on the right.

From rte97, cross Groveland Bridge to Haverhill. Leave rte97 by bearing right onto Groveland St. Go .7 mi & turn right onto East Broadway (opposite Charlies Variety). Go .2 mi & bear left onto Kenoza St, go 1.4 mi & bear right onto Middle Rd, go 1 mi to farm on left.

Join our mailing list for rare announcements. We will remind you when Christmas trees are ready for tagging and when berries are ready for picking.
We have cut your own Flowers on the honor system.
The colors are brilliant and garden is loaded with beautiful blossoms.